University of Leeds Bio Energy Report
Is Lincolnshire road verge biomass a suitable feedstock for anaerobic digestion?
Aaron Brown, 200620651
Supervisor: Dr Andrew Ross
Co-supervisor: Dr Miller Alonso Camargo-Valero
December 2016
Growing socioeconomic and environmental pressures have reiterated significance of developing technologies for the generation of energy from sustainable sources (Luque et al., 2008). Following the 2009 Renewable Energy Directive, the UK has been set a target of 15% of total energy consumed to be generated from sustainable sources by 2020 (DECC). Alongside this the UK's Climate Change Act (Parliament, 2008) provides a UK target to reduce greenhouse gas emissions to 80% of the levels released in 1990 by 2050. Subsequent to these targets, there is becoming increasing interest in the development of technologies and strategies for renewable energy generation across the UK. A current area of interest is the utilisation of bioenergy, particularly from feedstocks with high lignocellulosic compositions (Rowe et al., 2009) which do not compete for land with arable crops. Such crops can produce biogas through anaerobic digestion. Biogas is a versatile product which can generate heat, electricity, or be used as a transport fuel; following processing. Currently, the UK Government offers incentives to anaerobic digestion plants. These incentives include; feed-in tariffs (FITs) and the renewable heat incentive (RHI). FITs are in place for sites which produce electricity greater than 5 MWe of renewable electricity and RHI sites producing heat from biomass combustion (<200 kWth) or through injection of biomethane into the national grid (POST, 2011). A combination of Government incentives and increasing demand for renewable energy gives scope for anaerobic digestion technologies to develop and succeed.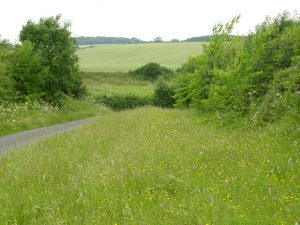 The UK county of Lincolnshire encompasses a large road network; 6,173km of which can be defined as 'rural' (Cheffins, 2015). Grass verges run parallel alongside these roads. The verges are annually cut by the council to comply with the Local Highways Authority. Maintaining the grass prevents overgrowth becoming a dangerous obstruction for pedestrians and drivers, especially around road junctions. Lincolnshire County Council currently cut 1.1m visibility strips along the verges using a flail mower. Across Europe, common practice for roadside verge maintenance is to leave the grass cuttings in situ; which undergoes a mulching process (Piepenschneider et al., 2016). These grass cuttings represent an underutilised potential feedstock for the generation of biogas through anaerobic digestion (Meyer et al., 2014). Through bioenergy generation from a waste material, Lincolnshire County Council could provide a source of income to contribute to balancing the cost of the roadside maintenance
budget. However, collection and processing of the grass has to be both economically and environmentally viable. A significant factor for the economic feasibility of collecting grass for energy generation is the energy output; or bio methane potential that can be attained from the grass. Hence, roadside verge grass must produce competitive levels of bio methane to justify the substitution of current anaerobic digestion feedstocks, with verge grass. Grass clippings from public spaces as a feedstock is becoming an ever more common occurrence (Cadavid-Rodríguez and Bolaños-Valencia, 2016, Hidaka et al., 2013). This includes use of roadside verge grass (Meyer et al., 2014, Meyer et al., 2016, Piepenschneider et al., 2016, Salter et al., 2007), each of which indicate an economically feasible system of producing renewable energy from biogas. These promising conclusions suggest the utilisation of road verge biomass may also be feasible across Lincolnshire.
Collecting the road verge clippings can also impact the biodiversity of local flora and fauna species. Cutting and removing grass clippings can increase plant biodiversity (Parr and Way, 1988) as there is reduced smothering of plant seedlings from the cuttings. Road verges can
be classified as an ecosystem, therefore increased plant biodiversity will encourage diversification of animal species; including important ecosystem engineers. Hanley and Wilkins (2015) reported twice the abundance of bumblebees along road verges compared to adjacent agricultural-land. Road verges have the potential to act as transportation corridors to connect fragmented areas of habitat (Marcantonio et al., 2013). This could increase biodiversity across a larger area; beyond the expanse of Lincolnshire.